A signed statement from Minister Heather Humphreys declaring her new special adviser & second cousin is not a relative
No relation "as defined by the Act".
The minister abuses the definition to facilitate nepotism.
When compared to statements from her colleagues you see the distinction
Just so we are all clear. The Minister actually invoked the the law on Ethics in Public Office so she could give a job to a family member.
Great little country
Last Thursday, Mick Wallace put the matter of Denis O'Brien's acquisition of a company called Siteserv to Brendan Howlin. The government were not impressed. Alan Dukes and the company in question respond in today's Irish Times.
This story has been tipping along for over two years but has literally come to life in recent months as Siteserv subsidiary GMC Sierra begin installing water meters outside your house.

Curiously, the Irish Independent have forgotten to report Wallace's remarks so I have put together this short timeline of events.
September 2008 - Irish banks are 'rescued' by the government. For an extensive and not unrelated history of that decision, see here
January 2009 - Anglo Irish Bank is nationalised. Former Fine Gael leader Alan Dukes, who was appointed to the board by Brian Lenihan, becomes Chair the following year.
December 2010 - After months of cascading horror, the IMF arrive in Dublin. In keeping with the 'Washington Consensus' imposed elsewhere, an agreement is signed which includes the transfer of water provision from local authorities to a central utility.
Febuary and March 2011 - We get a new government but no sooner were their arses on the other side of Dáil Éireann when the Moriarty Report is published. The report covers a time when the same parties and many of the same ministers were last in government.
Phil Hogan had a private meeting with Michael Lowry days after the publication but that is the extent of government action on the matter.
July 2011, Anglo Irish is merged with the Irish Nationwide Building Society to create the super-zombie Irish Bank Resolution Corporation.
March 2012 An IBRC debtors called Siteserv announces that the business is to be sold to an Isle of Man based company called Millington, owned by Maltese businessman Denis O'Brien.
The short version is IBRC had given Siteserv a loan for €150m, but is set to get back less than €50m as part of the sale, and will write off the remaining €100m.
With IBRC in state ownership, that means you are picking up the remaining tab. That is to go with €140m write off you gave Denis O'Brien's newspapers last year.
Curiously, despite this generous write off for Siteserv, the  shareholders walked away with five million euro. The lender is burned while debtors make a profit.
As we have learned in Merkeland, this kind of arrangement is almost unprecedented. It remains one of the biggest questions hanging over the whole affair, not least about the manner in which IRBC was run.
It later emerges that two potentially higher bids were rejected while another investor claims they were 'denied the opportunity to make an offer' and told the business was not for sale.
In this same month, an Taoiseach opens the day on Wall Street. Stock exchange bell ringing is drowned by the sound of collective vomit back home.
Labour make some token posture about O'Brien's presence (in a week to the year since Moriarty's publication) but this is the same party who defended his invitation to the 'Global Irish Forum' the previous year.
"When it comes to jobs, anything goes" said Gilmore who continues to blame Sinn Féin for his party's downfall.
March is also the month O'Brien "bumped into" then Environment Minister Phil Hogan at Mount Juliet golf club. A 'brief encounter' his department initially denied.
April 2012 - Siteserv approve the deal at an EGM. Arthur Cox act for both Siteserv and Millington. Loans for the purchase of Siteserv were provided by AIB. Former AIB chief Colm Doherty joined the Siteserv board in 2012. Alan Doherty, long time director of AIB Corporate Finance was appointed Siteserv CFO the same year.
In the same year €80m was bitterly collected by the Household Charge, state-owned IBRC waved away €100m and Ireland's richest man pockets an energy meter business.
May 2012 - Noonan fudges questions in the Dáil.
The Phoenix and Irish Times erroneously report that Siteserv have won a water meter contract.
This is actually an pre-existing boiler service contract worth €60m with Bord Gáis. The same Bord Gáis Group who are in the process of setting up a new subsidiary called Irish Water.
Shoddy journalism is actually keeping a story going for a change and "Denis" trends on twitter all day.
The Competition Authority approves the sale of Siteserv to the Denis O'Brien-controlled Millington. Siteserv said the disposal was "classified by the Irish Competition Authority as a media merger" and accordingly came under the remit of Fine Gael Minister Richard Bruton. What does Siteserv have to do with media you ask? Installation and maintenance of telecommunications infrastructure, security alarm systems, wireless broadband infrastructure, apparently.
Though the sale was done at arms-length via an Isle of Man vehicle, the shares in Siteserv will be held by two intermediary companies called Catcairn Investments and Catcairn Holdings which are registered in Ireland.
It also emerged that IBRC wrote off more than €64 million in debt owed by a British fuels business before it was subject to a takeover by a consortium involving Denis O'Brien. Good business is being in the right place and the right time I think we are told.
Later that month O'Brien became the largest shareholder in Independent News and Media. A decidedly more fractious takeover.
In January 2013, An Taoiseach attends the World Economic Forum in Davos. He didn't insult the entire nation for benefit of a few billionaires this time but some weeks later let slip that "the opening up of Myanmar" had "come up". Enda was particularly keen on an "Irish telecommunications interest".
When it was put to him that fellow WEF attendee Denis O'Brien had only recently described Burma as being "one of the most exciting market opportunities for telecoms on the planet" the Taoiseach prevaricated for weeks. He even had Paschal Donohoe put down parliamentary questions to deflect and muddy waters of opposition scrutiny.
For a man out innocently selling Ireland as the best little country, Enda Kenny was very shook indeed.
Eventually and very unconvincingly, he told the Dáil that he had spoken to a man from Ericsson, not Digicel. An Taoiseach had to repeat his words, such was the level of evasive muttering. CEO of Ericsson.
This is him (on the left) at the World Economic Forum in Davos that year.
The photo is from a Bloomberg article which followed Denis around for the day which
 began with a meeting in the basement of the Belvedere. He sat in a PricewaterhouseCoopers sponsored lounge with Hans Vestberg, CEO of Stockholm- based Ericsson AB, the world's largest maker of mobile-phone networks. The two discussed the restructuring of Irish debt and possible new markets for Digicel.
New markets for Digicel.
Our friend Hans has been "rolling out" infrastructure in Myanmar since March this year but "I had no meeting and no connection with Digicel at Davos" pleads Enda Kenny.
February 2013 
IBRC is dramatically liquidated. Dearbhail McDonald has a very interesting perspective on that here. One I would be inclined to going along with.
A few short weeks later in July 2013 - just days after the Dáil took its summer holidays - it was announced that the three regional contractors appointed to manage the installation of water meters across six regions are GMC/Sierra Ltd, J Murphy & Sons Ltd, and Coffey Northumbrian Ltd.
The Siteserv subsidiary GMC Sierra Ltd took not one but three contracts for installation and maintenance in the north west, Dublin and Midlands.
Three contracts worth €62m each.
To date there is no evidence of any impropriety. What is outlined above is just a list of events. Most of it stinks and looks grimly familiar but that is the very issue itself.
There is likely to be nothing illegal or underhanded about Siteserv's road from Anglo Irish Bank debtor to Irish Water contractor. This is the nature of the playing field men like O'Brien and Enda Kenny have created for themselves.
What is true is this whole story is rotten with the same old faces making money in the same old ways and ultimately, the same old outcome for citizens. This is the nature of the playing field men like O'Brien and Enda Kenny have made for themselves.
The Irish Times branched into regular podcasts this year. Business, lifestyle, current and foreign affairs etc. They are occasionally useful if superfluous. Hacks remain in the mindset they appear on traditional broadcasting. Careful not to divulge anything new or interesting they can keep for the morning paper.
The newsy side takes its name from Stephen Collins' Saturday column.
'Inside Politics', presented by Hugh Linehan.
We are never told where outside politics is. Something that perhaps says more about Irish Times attitudes to you and politics but a lucky escape when we consider the goatse-like graphic
Monday's instalment was titled 'Beloved Noonan' and all that implies. 
There was a very revealing chat in which he was described not just as a "shepherd" but "godfather of the nation" and separately "father of the nation" three times by four professional journalists.
This reflects a sycophancy across the media, who coo in hope of that next scoop from the Department of Finance. Newsrooms have no doubt assured themselves of the need for 'responsibility' at this time of crisis but the level of crawling after Noonan verges on parody.
Journalists like Alison O'Connor for instance are content to laud Noonan's slow and steady hand while in the same breath admit she was largely unaffected by his budgets. Harry McGee wrote an entire article on Noonan's alleged mastery of deflection and spin. Which is a roundabout way of saying journalists are not very good.
Far from daddy issues at home, Noonan in Europe has played the school yard twerp, slandering Greece and Cyprus in hope of ingratiating himself with the bigger boys.
This routine passes unremarked. The bully Noonan who threatened a dying woman and her family with the Surpreme Court has 'reinvented himself' as some sort of figure of comfort for these people. 
It is a curious liberalism at Tara Street, who like to think of themselves over and above the grip of Catholicism, while making new paternal figures out of the infallible Noonan.
Near the start of the show, political reporter Mary Minihan said something very unusual about the introduction of Irish Water - verbatim
I think there are examples elsewhere in the world that we could copy or avoid and you know, I find the whole Troika thing a bit of a red herring. I think that was something thrown out by the Troika. It certainly wasn't a requirement from them.

The concept of charging for water has been on the books for a long time. You know the government that introduces it is always going to be unpopular. Even if you know, right thinking people sort of think to themselves it is precious resource and we probably should be paying for it. Maybe the right tax at the wrong time would be the right way to say it.
Michael Noonan could indeed be a master of spin judging by that second part. Fianna Fáil too, considering that last phrase is a mangle of their exact line on property tax.
But aside from right thinking people, what is going on at the start there. Water charges "certainly wasn't a requirement" from the Troika and to suggest otherwise is a "red herring"?
Rewind to December 2010, the initial Troika agreement signed by Brian Lenihan, Patrick Honahan and Dominique Strauss-Kahn contained this
That is nearly four years ago now.
The Troika returned every three months for a 'review of progress'. Each time, government had to account for themselves. Signing a new memorandum on the way out.
This was from first quarter last year. 
Lots of talk of conditionality there for a red herring. Like each of the previous six reviews, demands are made at the threat of penury. Bombs going off in Dublin. No money in the ATMs.
But "certainly wasn't a requirement", apparently.
European Commission documents "seen by" TheJournal.ie last June were reportedly 
broadly critical of Ireland's failure to move more quickly in bringing in the new charges, which are necessary in order to "foster an efficient and rational use of a scarce and valuable resource".

The Commission also believes the roll-out of new charges is urgently needed "to ensure the viability of the sector's business model" and to fund other investments such as a programme to repair leakages and improve the water transmission network.
At the last review in November 2013, Phil Hogan secured agreement for a 12-month delay in billing. Local elections, heavy case-load, who knows the reasons, but that reprieve points to January 2015 as now scheduled.
An exception not "thrown out by the Troika" but signed off by each member after pleading from the Irish government.
Make no mistake, Fine Gael, Labour and Fianna Fáil are, without prompt, content to facilitate the concentration of wealth and resources in fewer & fewer hands but this very peculiar oversight at the Irish Times
That the International Monetary Fund could dictate national economic policy without an inch of print or minute of broadcasting focused on their history is inexcusable. That Irish Times reporters haven't bothered to read the agreement is inexplicable.
Inside politics indeed.
Joan Burton's Pathways To Work
Back in summer of last year, TheJournal.ie were fed a series of stories purportedly from the European Commission. For the most part they were just a rehash of policy and "reforms" agreed by Fianna Fáil but yet to be implemented by the current government.
Legal costs, doctor's pay, not enough public sector workers made destitute and so on. A cynic might say these 'leaks' were testing the ground before the Dáil resumed in September.
When the IMF arrived, first book to get the red pen was the social welfare budget. They tend to take a very dim view anything that doesn't have jobseekers writing CVs under threat of electrocution.
Among TheJournal's scoop was news that Joan Burton..
..is pursuing radical new plans to hire outside companies to identify training and job initiatives for Ireland's growing numbers of long-term unemployed people.
and that
government is finalising a tendering procedure to set up links with private companies who will be tasked with finding "labour activation measures" for some who have been out of work for extended periods.
The Troika and OECD have spent the last few years demanding the introduction of 'labour market interventions', 'activation schemes' and 'incentive programs'. Weasel words for corralling often vulnerable people towards jobs that don't exist while someone somewhere makes a profit.
The now Labour Party leader was happy to take these policies as her own. Jobbridge, Tús and other tricks have magicked thousands from the live register and more importantly from the news headlines. A government of work and jobs if you simply pretend to call them work and jobs.
The minister couples her efforts with a repugnant campaign of prejudice and misinformation. Cultivating a cloud of suspicion over the unemployed. Misleading fraud figures are routinely fed to a compliant press. Dubious surveys are cherry picked. Calculated comments about lifestyle choices and the glamour of mobile phones.
The numbers, the facts, the reality itself does not matter. The words and claims are unimportant so long as joblessness maintains an equivalence with criminality on the mouths of ministers. She will appear at the next Labour Party do flanked by banners of 'Le chéile' but no member of government has done more to sow resentment.
In summer 2012, the minister was guest of honour at an event sponsored by G4s. Under the banner of 'Pathways to Work' and €75 a ticket, this "welfare sector networking opportunity" was advertised as
a seminar structured to provide a high level of interaction between speakers and delegates. There will be plentiful opportunities for questions as well as discussion within both seminar session themselves and elsewhere. In the breaks and margins of the event there will also be ample scope for informal networking and business development with fellow professionals. 
An awful of lot 'scope' there for a quite word with a government minister but hang on, G4s, aren't they a security company? Wasn't it that same summer G4s were centre of a national scandal at the Olympics?  What do they have to do with the unemployed?
Back in 2011 there was much confusion and anger when it emerged US arms giant LockheadMartin were overseeing the UK census. Why was a firm who made their name in missiles doing the census and should we really hire the military industrial complex to collect details of every household in the country?
Plenty of well founded conspiracy to chew on there but the answer is much more mundane, if not equally hopeless.
The Lockhead side of the business sold bomber planes flown by both the US and Japan in WWII and as such, have decades experience winning government contracts. As is the way of the world now, those with such expertise are unlikely to let £150m census 'opportunities' pass either.
G4s are among this increasingly infamous collection of companies, chewing up what is left of the world's welfare states. We have been fed long hate campaigns against the public sector. The very notion of Citizens with Rights to use and own in common these services is not for you any more.
Deficit targets must be met, we must do more with less and these companies are stepping in with un-unionised labour and more than questionable practices to fill the appetite for outsourcing. That's another weasel word, for privatisation. Another Labour minister, the dearly missed Pat Rabbitte, started plans to move pensions and other services from your public post office to the banks.
It is why in the UK, you now find the same company, Serco, running speed cameras, prisons, borders and hospitals dinners. G4s can run both Israeli checkpoints and the Labour Party's 1913 commemorations on O'Connell street. - They had a dramatised re-enactment because class struggle doesn't exist now and the DMP would probably be intimidated by expensive phones. It is why a little known company called Rehab can run a lottery in Ireland and a 'Mandatory Work Activity Programme' in Wales. All very neat stuff.
 Joan Burton spent over seven million "re-branding" social welfare and training services. Sixty grand alone on a new logo for Intreo. That's over 300 weeks JSA payment… or 600 if you're under 26, in a department so sincerely aiming to eliminate "fraud, error and waste".
Who is she planning on marketing to?  Replacing the toxic brand of FÁS perhaps but the dole office is hardly competing with rivals. A sixty grand logo bodes well for future tangles with the private sector.
Maybe it was important to be seen busy while the Troika were in town or maybe this shiny new edifice is to mask what is soon behind the scenes. Today we learn that the department "does not have the manpower" to operate the new 'jobspath' scheme. The unemployment department are short of staff.
The new state training agency Solas, with an impressive six directors and one recent head of Young Fine Gael under the CEO, are already bypassed. 'Manpower' is brought in from the private sector and public services are run for profit.
This we are told is government's "first national initiative solely dedicated to tackling long-term joblessness". A cynic might say the first dedicated jobspath remains the road to Dublin airport.
Enter Seetac and Working Links. The 'jobsearch support specialists' who have made plenty hay in Cameron's nightmarish Britain. Horror from the world of 'welfare-to-work' flows week on end.
A sewer where over 10,600 sick or disabled people died within six weeks of being assessed as fit for work by Atos. That's the population of Ashbourne, or Cobh, or even Castlebar if you're reading Taoiseach, dead in the name of 'labour activation'. Hundreds of thousands of troubling but short of fatal stories in between. Atos took an "early exit" from their contract in March. Shamed even the oxymoron of a Tory welfare minister.

A4e were paid a generous £45.9m despite missing every single one of their "payment by results" targets. The former chair and main shareholder Emma Harrison failed spectacularly to account for the dividend she paid herself on the way out. Illuminating viewing for the road ahead. 

One new addition to Team Joan is currently centre of a fraud investigation. Allegations the number of jobs they were finding for people with disabilities were fiddled. The National Audit Office only began their investigation after whistleblowers were silenced or ignored by Burton's Whitehall equivalent. 
The department's initial investigation cleared Seetec of fraud without interviewing the whistleblowers. The other, Working Links, was in almost identical circumstances just two years ago.
You can see how this is likely to play out now.
Companies hungry only for profit hired by ministers hungry only for good news. Vilified, poor, and very often depressed jobseekers caught somewhere in the middle. At least becoming a 'client' and 'customer' is one step up from criminal.

Some notes on introduction of water charges
Tomorrow Ireland joins Yemen, Tanzania, Senegal, Rwanda, Panama, Niger, Nicaragua, Honduras, Boliva and Angola as nations who have taxed, privatised and introduced other water 'reforms' on condition of an IMF bailout.
It may seem over dramatic to bracket our problems with those of the global south but that is the simple common thread. Nowhere has the cosy notion of local services or water conservation been on the agenda. Cast your eyes to Detroit for the current sharp end of water politics.
The routine goes like this. Water provision is removed from any existing or separate authorities and bundled in one neat package. Soon there will be emphasis on the benefits competition can bring for the consumer.
In fact, the government report on water provision (by PwC for €180,000 thank you very much) clearly states
….once Irish Water is well established as a self-funding utility the Government and Regulators may wish to assess international experience of the introduction of competition in water and sewerage services to identify whether Ireland could benefit from competitive markets in the water sector at a later date.
Within the shortest feasible period, Irish Water is sold whole or in part to one of the world's utility multinationals, corporations that themselves usually have origins in the 19th century colonisation of Africa, India and the Middle East. Most likely giants like French Veolia or Suez who are more than capable of bringing further European pressure, in the unlikely event it is needed.
For instance, you can imagine Brendan Howlin explaining how we will still own the infrastructure but the utility will be 'managed' on our behalf. The revenue generated from the sale will be hailed as a "good deal for [a still eye-wateringly indebted] Ireland". Our odious creditors will be quietly trilled as someone in the Dáil reads a script about jobs.
The same consultants who grew fat on the establishment of Irish Water will be back to the trough to help guide the sale. Their insider expertise will be invaluable as they act middlemen between global moneybags and Irish resources.
The sober voice reading rates on your radio this afternoon will be replaced with rapid price rises. International and domestic business have long made hay in the Irish market. Tesco executives have been quoted naming Ireland as "Treasure Island". For transnational Finance, Dublin is the 'Wild West'. The list goes on.
Why would precious water be anything different to exorbitant cost we already pay for essential medicine. The outrage of hikes will mask the asset stripping of a utility we are currently closing hospital wards to pay for.
There is no big conspiracy. This is how business is done.
Where we do start to raise eye-brows is how introduction and establishment of Irish Water has been managed.
The IMF memorandum of understanding signed by Brian Lenihan, Patrick Honahan and Dominique Strauss-Kahn contained this stipulation -
That was December 2010. Three whole years passed with no one asking questions. November last year, on the day lrish Water legislation went through the Dáil, the opposition walked out and Ming crossed the floor with a glass of "glorified piss". Nothing was reported on RTÉ news. Imagine that.
An entire new semi-state had been created, nine figure sums of money had been spent and the national broadcaster neglected to even mention it.
It wasn't until January that, like lemmings, the Irish media one by one started to reveal the shambles in Phil Hogan's department. It wasn't until January, three years after the IMF deal and two months after the law had changed that people started to ask questions.
What did we learn. Irish Water has set up its regional headquarters in a building jointly owned by a Fine Gael councillor in Enda Kenny's constituency. They are to work alongside the offices in Phil Hogan's constituency and Brendan Howlin's constituency.
Not only had Irish Water spent fifty million on private-sector consultants in 2013. Some of the same consultants were later appointed to the board in unconventional and typically Irish ways. Irish Water have spend millions developing strategies to erase any lingering idea you had about being citizen of a republic.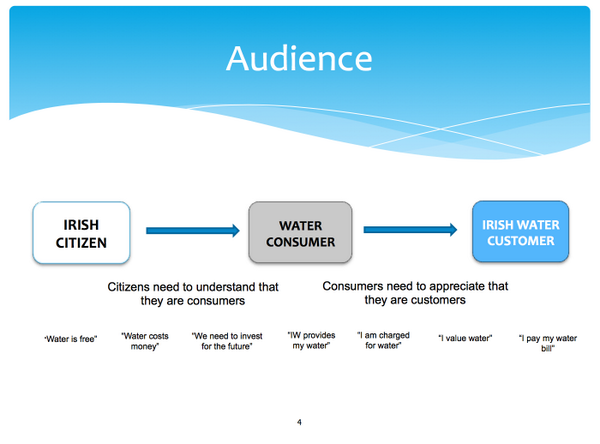 That Denis O'Brien bought a water meter company at considerable discount of €100 million, from us, via IBRC before shortly winning the installation and maintenance contract, again from us, isn't worth think about for too long. 
Behind all this is the absolute failure of opposition to mount any credible alternative. Like property tax, they have consistently danced to government tune of conservation, local services and 'other countries paying for it'.
The sort who find a chair around Marian Finucane's table, blinded by orthodoxy and antipathy to general taxation have missed a challenge while the left has failed to even answer the dishonest charge of being the only socialists to oppose taxes and public services.
There is a whole world of context missing from the debate that allows those facilitating the commodification of rain water in Ireland to present themselves as credible next people who are struggling to get past the question after 'can't pay wont pay' and their latest meeting.
A look through Facebook today finds the utterly dispiriting sight of opposition led by people who probably think they are the new Fenians or something. The result of failure to constructive a credible counter narrative.
On the first of October 2008 we woke up having guaranteed €440 billion worth of toxic bank liabilities. On the first of October 2014 we wake up with water charges. The story is right there in front of you.
Videos from last weekend's #repealthe8th conference are online now.
Essential viewing. Please share.
And don't forget

Two contrasting headlines from this week
I nominate you for the viral charity gimmicks are not a substitute for sustainable public services challenge.